Our Company – Quality and Experience
We Combine Tradition with Innovation
The best in traditional craftsmanship, quality and reliability.
We founded our company "Faszination Metall" (Fascination in Metal) in 2003. For the first years, we were located in Pfungstadt, and since 1 September 2009, you can find us in Darmstadt.
But we have been masters of our trade for more than 25 years.
Our expert team comprises:
two experienced master locksmiths
one of them is a European Welding Specialist (EWS)
two locksmith journeymen
one vocational trainee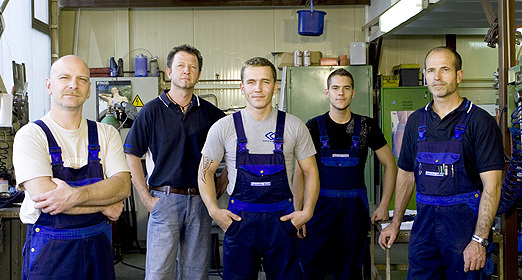 You can count on us for all your plans:
longstanding experience
selected materials
projects finished on time
flexibility
We are working with different kinds and specifications of stainless steel and aluminum – creating top quality finished products.
Our experienced welders are working with state-of-the-art welding facilities, creating classic craftsmanship and innovative metal construction ideas alike – all the way to designing exclusive façades made of stainless steel elements, from the first planning step to the final mounting on-site.
We put a special emphasis on delivering only top quality.
And happy customers who stay happy are our best reference.